---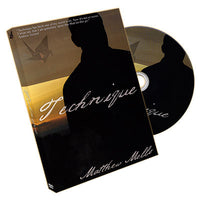 Technique by Matt Mello
Regular price $24.95 MSRP / 0.2 lb
"One of my secret tools. I must say that I am genuinely upset that Matt let this go." -Andrew Gerard
I want you to imagine that we are at a coffee shop having a conversation. I ask you to move to the other side of the room and write down any 2 or 3 digit number while I look away. I tell you to hold the paper close so no one can see. After a moment of concentration I am able to tell you with 100% accuracy what number you are thinking of.
Now, imagine if I told you it was completely impromptu. A way to reveal a spectator's thoughts without peeks, center tears, impression devices, stooges, or any sort of linguistic deception. Take every overused method and forget them - this isn't it.
Based on a nearly lost concept, this technique was redefined and simplified by Matthew. Similar ideas have cropped up in the past by such names as Karl Fulves, Al Mann, and even Tony Corinda. But, what you're getting here is Matthew's easy to use streamlined version.
Using this technique, YOU NEVER SEE WHAT THE SPECTATOR WRITES DOWN. You're about to discover a practical method for the most realistic, jaw dropping mind reading you can perform.
Other applications of the Technique principal:
- Impromptu drawing duplication of simple shapes
- Numerical values of thought of playing cards
- Realistic demonstration of the standard scientific ESP test
- Key points to consider
- You never see what the spectator writes.
- It is one of the easiest versions of it's kind .
- The principle has multiple applications.
- Bonus Effect included on the DVD