---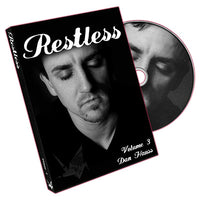 Restless V3 by Dan Hauss
Regular price $35.00 MSRP / 0.2 lb
Back in 2007 Dan Hauss brought up the idea of doing a massive film project unlike anything else on the market. The idea was simple, to make a multi-volume DVD set packed with effects that could be released on their own. Over three years have passed and the dream has become a reality.
Restless is the result of many sleepless nights where Dan created some truly unique and sometimes bizarre magic. On these DVDs there is magic with shoe strings, gum, name tags, water bottles, matches, straws, candy, coffee creamers and many other ordinary everyday objects. Plus fans of Sleeping Queen and Lit will get a deeper look at the visual and unusual card magic of Dan Hauss. We are extremely proud to present this set of unique, practical and unforgettable magic from one of magic's fastest rising stars.
Volume 3
Puff/Smoke - This is such a powerful way to mix hard hitting mentalism with extremely visual magic. Rarely do you get such big results from such simple methods.
Coin and Marker Transpo - This is Dan's favorite non gimmicked effect, it has been his impromptu go to effect for years.
Torisit 2 - This is a TNR unlike any other. A spectator tears a card into 4 pieces and they are restored in front of their eyes. This is done in full view of the spectator and the spectator actually sees the cards melt back together.
Footloose - In a town where dancing is forbidden one has plenty of time to create new magic. Footloose is an effect that allows you to combine your laces with a spectators laces without tying them making one long shoe lace. There are lots of visual moments in this routine is miles apart from the standard card or coin trick. The best part is that this clever gimmick can be on you at all times so you can perform this whenever you want.
Lint - From an obsession with lint brushes an awesome parlor routine is born. This is a routine that has lots of built in comedy and it's definitely a worker.
Kiss The Table - A Hershey Kiss is visually smashed on top of a table and passes through the table leaving a tasty treat unwrapped and ready to be given to someone special.
Fake Take From Box - This is Dan's very special move for removing a spectators selection from anywhere in a card box with all of the cards in the box.
Running Time Approximately: 1 hr 58min