---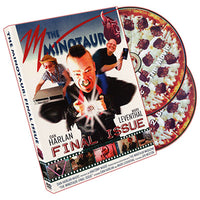 Minotaur by Dan Harlan
Regular price $60.00 MSRP / 0.24 lb
The MINOTAUR: Final Issue 2-Disc DVD Set
The Greatest Magic Instructional Movie Ever Made! Destined to Become a Cult Classic! Dan Harlan and Marv Leventhal (co-publishers of the legendary magic magazine, The MINOTAUR) Bring their Creation to Life ON DVD in this Wild Tale of Intrigue Involving Robots, Costumes, Beer, Color-Changing Plumes and 25 Incredible Effects!
That's Right! 25 Incredible Effects with Cards, Coins, Orange Juice, Popcorn, Toothpicks, Mardi-Gras Beads, Beer, Brown Bags, Business Cards, Big Dice and, of course, Color-Changing Plumes! Packed Full of Great New Magic Routines... all woven into a crazy story to keep you laughing while you're learning. 3 Hours of Non-stop Fun!
Plus, another hour of Bonus Features including: Effects from previous issues of The MINOTAUR magazine by Steve Cohen, David Williamson, Gazzo Macee, Anthony Lindan, David Neighbors, Gene Anderson and Angelo Carbone. And, as if that wasn't enough, Harlan performs and teaches his killer version of the classic "Collectors" routine. It's a reputation-making "worker" that you'll want to use!
You'll Want To Watch This One Again and Again and Again! Get yours today!
Here's a list of the Effects featured on The MINOTAUR: Final Issue
Fairest of Them All - Marv Leventhal & Dan Harlan - The spectator is merely thinking of a card, yet you can easily find it! Does that ring a bell?
Hebe, Hera, Hecate - Dan Harlan - Four acrobatic Queens at a Goddess Temple just outside of Las Vegas. Sound like fun to you?
Sprites - Dan Harlan - Discover how Harlan survived in the wild on a diet of small woodland creatures... and you can too! Sure to D'Lite!
Adjoctive - Phil Goldstein - A bunch of business cards, random words, random years, math and dealing piles... to find the phrase that pays. Sounds like awesome mentalism to me!
Aqui (A Key) - Dan Harlan - The spectator's key vanishes into another dimension and has a little trouble returning until you coax it out with fire. This one is spoo-key!
Cupside Down - Dan Harlan - A cup filled with liquid, placed into a brown paper bag inverted through a full 360 degrees without spilling a drop! Go on, examine everything!
Holding the Bag - Dan Harlan - Harlan's brown bag "Psychometry" builds to an impossible revelation of the final object's identity. It's in the bag!
Glass Backwards - Tom Craven - A couple of randomly selected cards match predictions on display from the start. Ooooo, you get to make something cool!
Big Easy Linking - Dan Harlan - A linking Mardi-Gras necklace routine perfect for the slightly less inebriated reveler. "Show us your TRICKS!"
Royal Plushy - Dan Harlan - A stuffed animal always wins 5-card stud no matter how many players are in the game! His secret is a pretty cool cooler!
Folderol & Dagger Move - Dan Harlan - Tap three times with a Sharpie if you want me... to make your card appear folded under the clip. Who brings a pen to a knife fight?
Counting On You - Dan Harlan - The fun adds up as the spectator tries to keep track of how many cards you have without puking! Warning: May Induce Laughter.
Mexicali Aces - Marv Leventhal - Everything seems kosher as the aces appear, but one of them conceals a little extra spice! Who ordered the Spicy Kosher Mexican Turnover?!
On Your Mark - Dan Harlan - Three wrongs DO make a RIGHT in this simple card revelation... and deck switch. Follow me down the garden path.
Sign Wave - Dan Harlan - The deck goes crazy as cards turn face-up, face-down and change color, until you set everything right... except the signed selection. Finally, a trick where everything is gimmicked!
Prism Pen - Dan Harlan - Amuse your spectator before they sign their card with a quick color-changing pen routine. You might call it a "magical" marker!
Lock Master - Mike Draganic - If you forget the combination to your lock you can always have four people pick random numbers and it will magically open! Now, they know too much.
Money Laundering - Dan Harlan - A spectator's dollar comes out a little bit too clean from your mini washing machine, so you offer to print them a new one! If only someone has the right paper...
Beer Money - Dan Harlan - You've got money and I've got beer, so when a dollar turns into a beer label, we'll find the money in the bottle! Plus deposit in Maine and Hawaii.
Bright & Early - Jen Weston & Dan Harlan - You'll find some very strange ingredients in that "orange drink" of yours. What's in there? Read the label!
Vegas Baby - Dan Harlan - Breathing fresh air into great mentalism plot, Harlan adds color, comedy and cash to create a real winner! Roll the dice and take a shot!
The Popcorn Trick - Dan Harlan - When you need a quick snack, be prepared with this magical method of making instant "popped" corn! There's a kernel of truth in it.
Allied Alliance - David Neighbors - Experience the mystery of international finance as coins travel invisibly from here to there, and back again! Boy, if I had a nickel for every penny I've ever had...
All You Need Is Love - Dan Harlan - The perfect four-card-twisting-color-changing-backs-and-appearing-marks-with-hidden-message trick to perform when it's time to shut down the evil robot version of yourself. 'Nuf said.
World's Best Toothpick - Marv Leventhal - A grossly funny bit of emcee business to fill the time before the finale. Picky people pick perfect picks.
BONUS EFFECTS:

Harlan's Collectors - Dan Harlan - The classic "Collectors" plot (Roy Walton) with professional additions, touches and handling by Harlan.
Dan Harlan also performs and teaches one effect from each of the previous volumes of the original magazine. Featured effects from previous contributors to The MINOTAUR: Coins From Napkin (v1n1) - Steve Cohen, Brain Probe (v2n1) - David Williamson, A Gentleman's Game (v3n3) - Gazzo Macee, Speck-ulation (v4n2) - Anthony Lindan, Bent Outta Shape (v5n1) - David Neighbors, Penned In (v6n1) - Gene Anderson & Dan Harlan, and Striking Art (v7n1) - Angelo Carbone.
Running Time Approximately: 180min (Not including bonus features)