---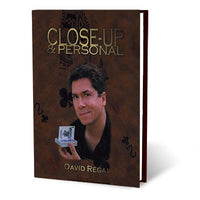 Close-up And Personal by David Regal
Regular price $55.00 MSRP / 2.7 lb
This hardcover book (253 pages, photo-illustrated by Leslie Davis-Regal), is currently in its third printing, and filled with powerful close-up magic, including the entire act David did at The Magic Castle in the 90s. Published in 1999, it was one of the best-reviewed (and best-selling) books of that year.
Contents:
Preface—Ken Krenzel
Introduction—Max Maven
Foreword

Cards
All's Fair
Leap of Faith
Commercial Travel
Clandestine Collections
Inclination
The Luck Test
Romeo & Juliet
Over & Out
Isolated Force
Ten-second Poker
The Wrong Ones
Sending It Through
Hailing the Great Discrepancy
Clean Cut
For Marlo
Primate
Swindle Transpo
In Praise of the Double Lift
The Oddity
John Hancock
The Joker Works Overtime
Mental Transpo
Neither Fish nor Foul
There & Back
Got a Light?
Business Relocation
Ace in the Hole
Fool 'em if You Got 'em
Spot Remover
Letter Perfect
My Best Friend
Cards &...
The Half Deal
The Script
Pointing the Way
Mystic Poker
Lies
The Crystal Ball
This is My Stop
Unlimited Edition
I've Got Your Number
Nailed!
John Lovick's The Reparation
Pipped Off
Money
Clearly Impossible (Sans Lap)
Clink
Four Plus Four
Poor Man's Wallet
Found $
4½
3½
2½
The Great Wall of China
Optical Coin Climax
Assemblies
Down Under Assembly
Logical Assembly
Anywhere Assembly
Price's Stealth Switch
Streamlined Assembly (Minus One)
A Short Leap
True Blue
Blues Progression
Mentalism
Gambit in a Box
Penny for Your Thoughts
The Fifty-second Card
All Strung Out
A Strong Feeling
An Occasional Miracle
The Man with the X-ray Eyes
Sweet Tooth
Countdown
Perchance to Dream
Gaffed Decks
Diamonds in the Rough
The Déjà Vu Deck
Triple Vision
Photo Finish
Pasteboard Massacre
Flight of Fancy
The Opener